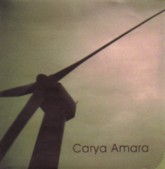 Carya Amara – Vestigial Digital
Vestigial Digital kick-started Earthrid Records with raw, uncompromising digital music that was neither sterile nor glitch – but something more visceral. Personal yet attuned to themes of decay in a technological age, Vestigial Digital repelled some who could not accept what music could be but excited those who could. Since imitated but never reproduced…
The music on Vestigial Digital was made using software to transform natural and unnatural sounds. No conventional synthesisers (hardware or software) were used.
Available on CD and as a Pay-What-You-Like (or free) download
Name Your Price / free download (nearly everyone chooses free, so don't feel bad about doing the same) from Bandcamp.
The professionally manufactured CD of this album is still available. Details will be added to the Bandcamp page soon, but in the meantime you are welcome to contact Earthrid to ask how you can get one as cheaply as possible.
Listen now
Track list
Nietzsche is Dead
Job's Torturer
Teslalations
Phallusy
Orthodox Sea
Viva Cadaver
Wind versus Windscale

Part 1 – Blowy Day
Part 2 – On the Beach
Part 3 – The Tao of Power
Magazine and Web Reviews
"For all its raw-edged venom, Carya Amara's music nevertheless displays a sense of connectedness with the world that is rarely found in electronic and tape works generally. And, amongst all the anger (or is it angst?), there is evidence of an altogether wicked sense of humor at play" – Computer Music Journal
"a secret harmony, a reckless boldness and unconcern for established order, that I have found quite intriguing. Check it out ". – Y. Arkadin, Erebus magazine.
"There are no songs here in any traditional sense… The group has completely done away with… everything that music normally is… the result is ultimately damn near unlistenable" – J. Berk, Splendid
"as atmospheric as hell… pioneering stuff indeed" – Modern Dance magazine
"A twenty-first century concept album, and one well worth listening to. The juxtaposition of distorted jangling voices and smooth electronic bluster is both intriguing and challenging." – Flux Europa
"The effect is at first just plain bizarre, but on extended listening becomes intriguing, disturbing and even at times moving… This is the sort of music the Surrealists would have made if they were still around… Vestigial Digital is definitely an experience to live through" – The Violet Apple
"bold, brash and exceptionally potent… a violent and fairly gut-wrenching sonic assault… thought-provoking sonic statements, masquerading as music" – Stone Gnome
"a trip well worth taking with an end that is (spoiler alert!) open but positive! Wow!" – Yeah I Know It Sucks
Reviews from Listeners
"'Teslalations' and 'Orthodox Sea' are both perfect, wonderful works, and so is 'The Tao of Power'" – Kay Orchison, Australia
"I must say that's some heavy and dour stuff… There's no chance of it being confused with fashionable lightweight blip blop, it's much too nasty. You can feel people's bones cracking" – Tom Ellard (Severed Heads), Australia
"The final suite was purely gorgeous! Those three movements, along with the midsection of the first piece, are my favourite bits of the whole. I'd like to say that the cover really caught my attention…The whole disc has a certain freshness about it… I am really growing very fond of the CD. Very well done" – Michael Griffin, USA
"Incredible!" – Kendall Shaw, USA
Release Dates
Released on CD on 26th September 2001. Released on 19th May 2013 as a download in a variety of formats on Bandcamp.