Evematic – Bisonogram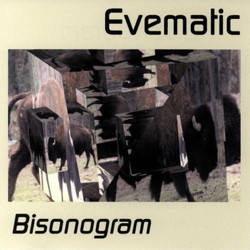 Evematic was a solo project by Eve Thacker, who passed away in January 2013.
Eve's solo release on Earthrid, Bisonogram, was recorded according to her typical methods, which used a unique combination of exotic analogue and bargain-basement digital audio units, wired together in her home studio. The results are not to be missed for anyone with an ear for unique electronic music that is by turns joyful and suspenseful.
This album was originally released by Earthrid on CD in 2004 and is now made available again as a free download.
In memory of Eve Thacker (1946 – 2013).
Get Bisonogram
Bisonogram is available as a download from
Bandcamp
.
(The CD edition is no longer available).
Review
"Showing off her experience and knowledge of the genre, Thacker creates texture-beds within texture-beds of intriguing, unique sounds." – Splendid e-zine.
Track listing
Native American Construct
On The Cow-Pat Line
Buffalo Window
Burnishing Desire
Any Witch Way
Tea Pee
Past Tents
Bisonogram
Total playing time: 46 minutes.
Release Dates
This album was released on 4th May 2004 on CDR (CDR no longer available from 28th July 2018).
Released on 17th April 2013 as a download in a variety of formats on Bandcamp.