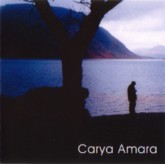 Carya Amara – Tales of the Unattractive
A retrospective of experiments in electronic music from 1980 – 1991 by Carya Amara.
Synthesiser melodies, lo-fi experiments with record players and warped organ drones set the course for Carya Amara's rejection of musical categories, and paved the way for the music in the companion volume, Extinction Frequency.
Get Tales of the Unattractive
Tales of the Unattractive is available as a download from
Bandcamp
.
(The CDR edition is no longer available).
Reviews
"CA's influences are certainly more evident here… Tales is hellishly varied, and would, to be honest, make a great starting point to test the waters" – Modern-Dance magazine.
Track list
Magnetic Medium (c.1985)
Recherche (Mid 1980s)
Between Light Sleep (Mid 1980s)
Disfigured Night (Late 1980s)
Dada Dance Instructor (Mid 1980s)
Ghosting (Late 1980s)
Falling Apart (Early 1980s)
Dweepzucht (c. 1987)
Hello? (early 1980s)
Mindslap (c. 1986)
My Regeneration (1986)
Mock (1988)
Treat (1989)
Tech Platonics (c. 1984)
The Edge (1980)
Inaction (c. 1981)
Tunes of Glory (1980)
H (Early 1980s)
Vluchteling (Late 1980s)
Ode to Joy (1991)
Waste Paper (1990)
Release Dates
Released on 27th August 2002 on CDR (no longer available on CDR from 18th February 2013).
Released on 7th June 2013 as a download in a variety of formats on Bandcamp.